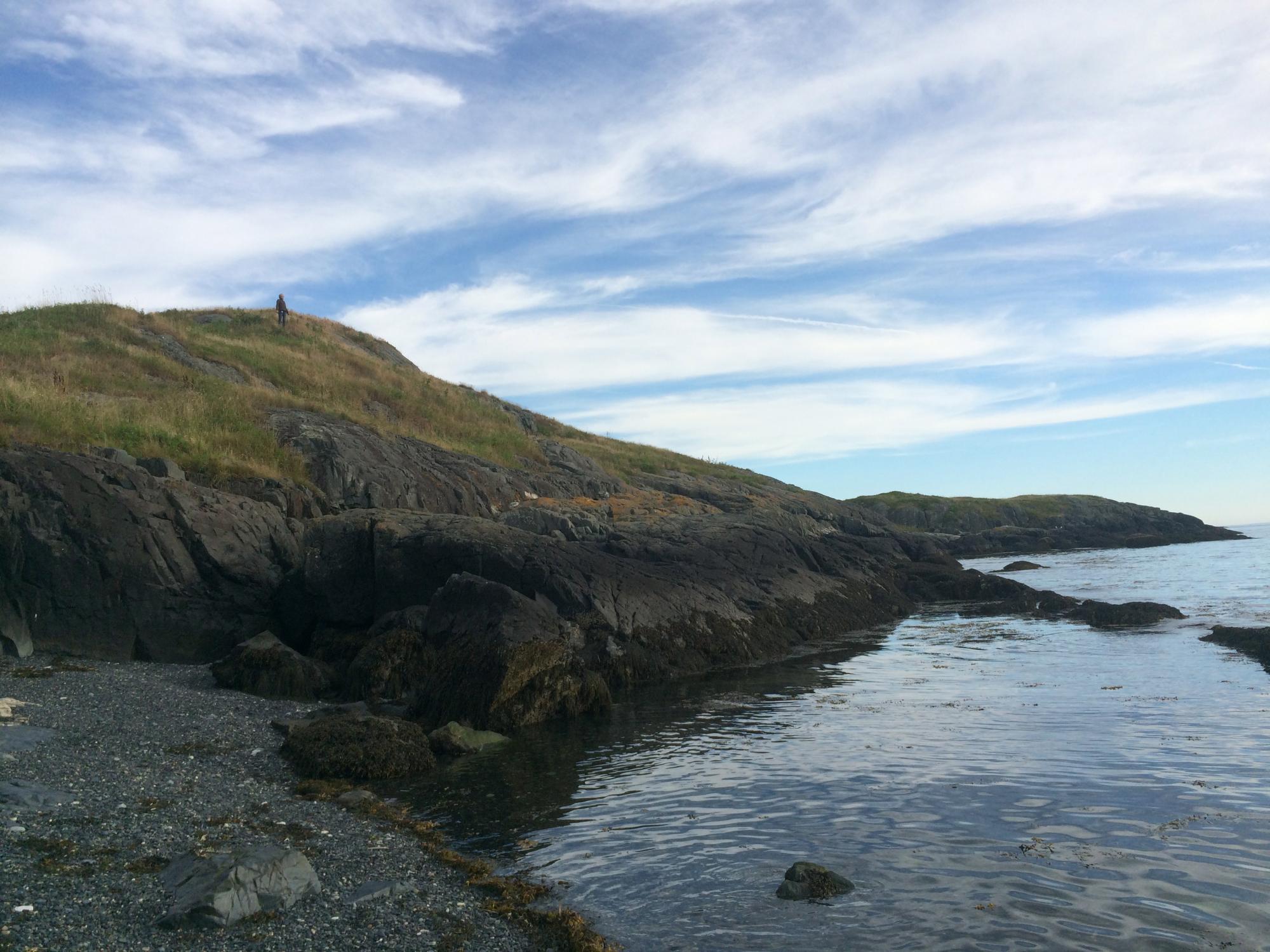 Check out our favorite destinations on Premise below! Mount Desert Island has many scenic outer islands and other nearby beautiful harbors that make great destinations for day sails right out of Southwest Harbor.
Details about approaches and good anchorages can be found aboard Premise.
Day Sails:
Long Island (Blue Hill Bay): An excellent destination for especially fall sailing, Long Island gives amazing views of MDI in full color. Circle the island for a full day of beautiful scenery.
Marshall Island: Possessing one of the nicest sand beaches of the outer islands, Marshall is within easy reach from Southwest Harbor, a great picnic destination!

Swan's Island: A good there-and-back-again destination for a very full day of sailing or spend the night in Burnt Coat Harbor, anchoring in a line alongside big schooners after enjoying Marshall Island.
Bar Harbor: Sail around MDI and take in the ocean view of some of the island's most famous sight: Thunder Hole, Sand Beach, and more!

Winter Harbor: Full of interesting nooks and crannies to discover, Winter Harbor makes a good destination in all seasons. Spend the night on your way to destinations down east or visit only for the day, this highly protected harbor it sure to be enjoyed by all.
Two-Day Sails:
Isle au Haut: Beautiful coves to anchor in and scenic mountains to climb are some of the draws of this destination. Home to part of Acadia National Park, this island is full of places to explore and discover.

Stonington: Stonington makes for a long day of sailing but a fulfilling one. Spend the night off one of the many islands south of the Deer Island Thorofare and explore the next day.
Green Island: South of Stonington, this Maine Heritage Island has a quarry pond to swim in! Perfect for an afternoon cool down or a morning hike around the island.
Eggemoggin Reach: So named for only the single tack needed to sail in either direction, Eggemoggin Reach offers sailors the opportunity to sail beneath the Deer Isle Bridge, and, if you are lucky, be able to enjoy some excellent summer sailing with the big Camden Schooners.
Frenchman's Bay: After spending the night in Bar Harbor, explore the various attractions Frenchman's Bay has to offer: such as Sorento Harbor and the anchorage behind Treasure Island with its nearby seal ledge. Protected by MDI, the bay offers excellent sailing with good breezes and calm waters.
Three-Day Sails and Beyond:
Brimstone Island: This island is a favorite destination for us! Featuring a double crescent black stone beach and a few winding trails to explore, this barren island is a beautiful place to visit.

Vinalhaven: This scenic area is full of lighthouses to see, coves and smaller islands to discover and towns to explore. A busy fishing harbor, Vinalhaven is a thriving island community.
The world is your oyster on the decks of Premise! Use our cruising guide aboard to discover new and interesting places to visit while on your charter!

wooden boat, premise, mdi classic charters, sailing destinations, itineraries, mount desert island, maine coast, maine islands, sailing, bareboat charter, acadia national park, bar harbor, bareboat charter, boat rental, charters, boat charters, sailboat charters, jim elk, elk spar & boat shop, wooden boat, premise, mdi classic charters, sailing destinations, itineraries, mount desert island, maine coast, maine islands, sailing, bareboat charter, acadia national park, bar harbor, bareboat charter, boat rental, charters, boat charters, sailboat charters, jim elk, elk spar & boat shop, wooden boat, premise, mdi classic charters, sailing destinations, itineraries, mount desert island, maine coast, maine islands, sailing, bareboat charter, acadia national park, bar harbor, bareboat charter, boat rental, charters, boat charters, sailboat charters, jim elk, elk spar & boat shop, wooden boat, premise, mdi classic charters, sailing destinations, itineraries, mount desert island, maine coast, maine islands, sailing, bareboat charter, acadia national park, bar harbor, bareboat charter, boat rental, charters, boat charters, sailboat charters, jim elk, elk spar & boat shop, wooden boat, premise, mdi classic charters, sailing destinations, itineraries, mount desert island, maine coast, maine islands, sailing, bareboat charter, acadia national park, bar harbor, bareboat charter, boat rental, charters, boat charters, sailboat charters, jim elk, elk spar & boat shop, wooden boat, premise, mdi classic charters, sailing destinations, itineraries, mount desert island, maine coast, maine islands, sailing, bareboat charter, acadia national park, bar harbor, bareboat charter, boat rental, charters, boat charters, sailboat charters, jim elk, elk spar & boat shop, wooden boat, premise, mdi classic charters, sailing destinations, itineraries, mount desert island, maine coast, maine islands, sailing, bareboat charter, acadia national park, bar harbor, bareboat charter, boat rental, charters, boat charters, sailboat charters, jim elk, elk spar & boat shop, wooden boat, premise, mdi classic charters, sailing destinations, itineraries, mount desert island, maine coast, maine islands, sailing, bareboat charter, acadia national park, bar harbor, bareboat charter, boat rental, charters, boat charters, sailboat charters, jim elk, elk spar & boat shop, wooden boat, premise, mdi classic charters, sailing destinations, itineraries, mount desert island, maine coast, maine islands, sailing, bareboat charter, acadia national park, bar harbor, bareboat charter, boat rental, charters, boat charters, sailboat charters, jim elk, elk spar & boat shop,